Officer Solana Craig Named New Downtown Impact Officer
in
Stateville News
---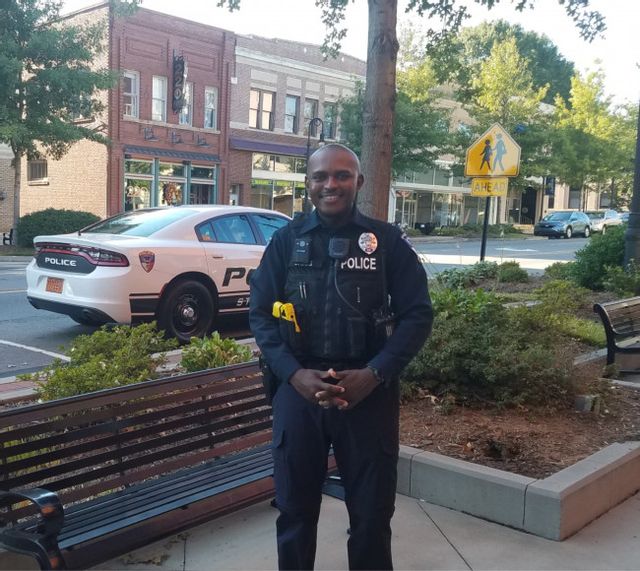 New Downtown Impact Officer Solana Craig is enjoying all aspects of his new assignment.
"Downtown Statesville is a great community," said Craig. "I spend my days making contact with the citizens and businesses, checking on security issues before folks get to work, assisting with traffic problems and trouble- shooting all kinds of issues. Everyone has been very supportive of our efforts to make downtown a fun and safe place to be."
The 33-year old officer has been with the Statesville Police Department for almost 3 years. After moving to Statesville from Pennsylvania, Craig was selected to participate in the SPD Police Recruit Program which pays recruits while attending the Basic Law Enforcement Training Program. After his graduation, he worked as a patrol officer and a COPS (Community Oriented Policing Services) officer before being named as the Downtown Impact Officer position in September.
"I know people say this a lot, but I always wanted to be a police officer," said Craig, "and I'm really enjoying it."
Committed to solving problems, Craig is meeting business owners and listening to what's on their minds. "And I love to just talk to citizens on the street and see what's up," he added. During the week, Craig assists with the traffic at the downtown schools. "I know it's frustrating for the parents and for the drivers trying to get through town. I want to work with our traffic department and see if we can't come up with some solutions."
The Downtown Impact Officer position was established in 2009 to provide additional police coverage in the downtown area and Marin Tomlin, Downtown Statesville Development Corporation (DSDC) Executive Director is delighted with the newest officer. "We think Officer Craig is great," said Tomlin. "He's always smiling and always helpful. And we appreciate his efforts in getting to know our downtown better and see how he can make a difference."