Johnson Greenhouses Celebrates 86 Years in Business
in
Stateville News
---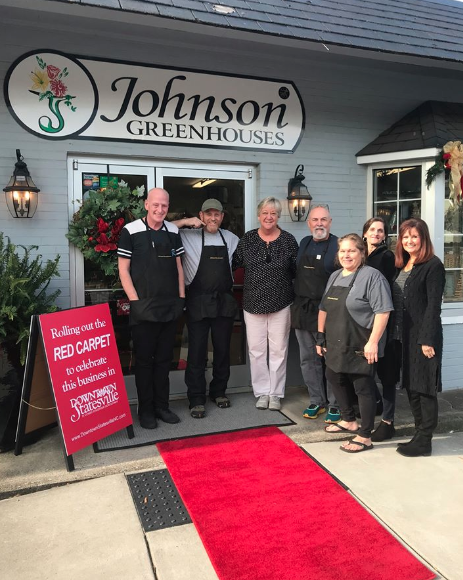 Share This "Remembering our history while building on the future" might be something you hear at Johnson Greenhouses. Since 1933, Johnson Greenhouses has been serving the people of Statesville and Iredell County with their plant and floral needs. 
Today's shop is taking it to a new level! From its beginning in 1933 in the Mitchell College neighborhood to the 1974 relocation, the Kirkman family has been associated with flowers and plants. In 1974, Johnson Greenhouses built a new storefront and greenhouse at 204 Salisbury Road. Karl (Kirky) Kirkman served as the business owner and manager (1968) and welcomed business partners, Ron and Cheryl Matthews in 2010.
With the assistance of their daughter Coleman, the Matthews began the restructuring of the business. In 2015, Ron and Cheryl became owners of Johnson Greenhouses and a major renovation project was conceived.
With the guidance of a design architect, Ron, Cheryl, Coleman and Kirky sat down to look at what could be done with the building. Having "good bones" and a great location in the Historic Statesville Downtown Business District, plans were made to upfit the building.
In February of 2016, G.L Wilson Building Company began demolition of the greenhouse. The new area where the greenhouse formally stood would soon house a retail greenhouse/garden area, a room for storage and a fully functional kitchen/staff room. Inside the original building, two coolers were taken out and one large cooler was built to replace them.
The layout of the inside structure was opened for better customer service and an increased inventory of stationery, invitations, cards and gifts. The office area was improved and enlarged as well. The workroom of the florist was rearranged to accommodate the designers, deliveries and inventory of daily wares. A ramp was installed to accommodate persons with mobility issues and the parking lot repaved.
When you enter the main door of the shop, you are welcomed by the Office Staff and/or Cheryl. Her desk is directly in front and she is there to assist you in ordering invitations for parties and weddings, stationery and notecards, or personalized napkins.
The center of the main floor is a shopper's dream for SCOUT bags and accessories. Two bay windows hold a variety of plants and gifts for every need. The shop has a two-door cooler filled daily with floral arrangements for those on the go! Gifts for him and her as well as infant items can be found on the shelves throughout the shop.
Oils and vinegar from The Enchanted Olive, and many flavors of Honey from Cloister can be found in the Hoosier cabinet (and tastings are welcome!) Gift items from brand names like Mud Pie, Corkcicle, Caspari (napkins and Bridge items), and Hester and Cook (placemats, and kitchenware) can be found as well. From a customer inquiry, Root Candles are now available in Statesville too!
A family tradition of Margaret Furlong ornaments can be purchased and children of all ages will love the Tenzi game. Ella B Candles (Charlotte) are available and Ron and Cheryl even named them; one being the Statesville candle!
Gift offerings are constantly changing and new items are offered to our customers. In the Retail Greenhouse, plants are brought in three times a week to ensure freshness and variety. Succulents are available and can be planted into a Fairy Garden or terrarium. Tropical plants and orchids are a popular choice of customers while green plants in many varieties and blooming plants adorn the shelves and floor.
Pots from the Pottery Market in Asheville are available and Aged Terra-cotta found in New York are waiting to be planted. Finally, in the Pawleys Garden out front, yard art and mobile art are available for purchase.
It's easy to see that Johnson Greenhouses has reached out to the needs of the customers of Statesville and surrounding areas, but the roots of the business remain the same. Serving Statesville for 86 years is a banner Johnson Greenhouses proudly waves!