D'Laney's Sport Bar in Downtown Statesville honored with Greater Statesville Chamber of Commerce Small Business of the Year!
in
Stateville News
---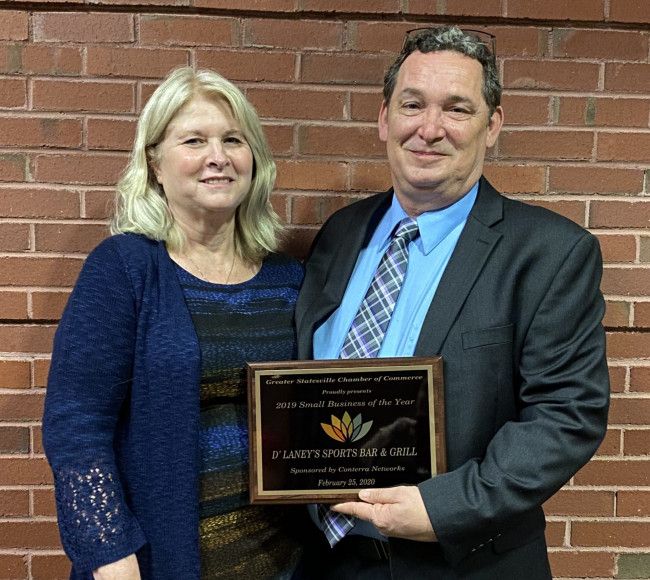 Our team had a great time celebrating business in Statesville, North Carolina at the Greater Statesville Chamber of Commerce Annual Meeting & Awards Banquet, Tuesday February 25, 2020. 
We are proud of Downtown Statesville businesses, D'Laney's Sports Bar & Endeavors Pediatric Therapy, LLC for being nominated in the category of 2019 Small Business of the Year.
Please join us as we congratulate D'Laney's on winning the honor and outline the background on the honor. The Small Business of the Year Award is presented by the Greater Statesville Chamber of Commerce to an entrepreneur for developing an outstanding, growing business, innovative product(S), increasing jobs, increasing sales, overcoming adversity, and community contributions.
Any individual who owns and operates or who bears principal responsibility for operating a small business may be nominated. A small business is defined as a chamber business with less than 25 employees and must have been operating for at least two (2) years.
We have outlined D'Laney's nomination by one of their longtime customers below.
COMPANY PROFILE:
D'Laney's is a business that constantly stands out being an economic asset to the downtown of Statesville and charitable contributor to the local community. D'Laney's is a full-service restaurant offering American Cuisine, along with a full bar that caters to individuals and family that want to experience a sport enthusiast environment while enjoying time with friends and family. They are the longest running supporter for local live music and have offered live music since opening in 2003.
FINANCIAL GROWTH: Discuss your history as an established business including, but not limited to, number of years in business, sustained expansion, growth in square footage and/or growth in net worth, growth in number of employees, sustained over a minimum of two years.
Delaney's opened for business 9/1/2003 Sales have more than doubled in the last 5 years and ownership has invested in the downtown by purchasing the building and the building next door. Dave Laney has consistently reinvested in the business as needed to maintain the high quality of product and service by purchasing new Kitchen and Bar equipment. A key driver to D'Laney's business success has been maintained by the employees. The staff is comprised of a group of core loyal employees that consistently keep newer staff members to deliver a high level of customer service.
LEADERSHIP & CITIZENSHIP: Discuss your use of ethical leadership and corporate stewardship and how it has impacted the community through use of personnel or financial contributions. Include information on specific contributions of money, time, or resources to charitable causes and membership in councils, boards and clubs providing support and services to the community.
D'La
ney's Sports Bar and Grill started and has maintain the Guest Bartender Series in 2017 thru today. This event was held once a month in its beginning year and still runs at least once every 3 months the past couple of years. This fund-raising event has raised more than $50,000 thus far with proceeds going to the local charities in the Statesville Community.
MARKET LEADERSHIP: Discuss your innovativeness of product or service offered to illustrate creativity and imagination of management. Explain how your product or service ts a niche not being adequately addressed by the competition. Include how you demonstrate outstanding customer service.
Since D'Laney's began in 2003, they have always led the market in the offering of special events in the downtown. The Criterium Bike Races continues to be a major impact to Statesville by bringing in outside enthusiast. The tricycle races that run between the Pro Bicycle Class Heats is an event created and sponsored by D'Laney's. They also have taken advantage of the new law allowing alcohol sale to begin at 10 AM on Sundays. This was done by offering brunch and related cocktails.
RESPONSE TO ADVERSITY: Give examples of challenges faced in your business and the methods used to solve them. Include a specific description of financial, physical, legal or other crisis and substantiate the threat to the continuity of your business. State the action(s) taken to resolve the crisis.
D'Laney's has endured many adversities during it operation. The economic downturn in 2008 along with the Statesville City Streetscape construction in 2011/12 and 2015/16 presented two major hurdles to continue business. D'Laney's survived these major events by maintaining good business practices. This was achieved by keeping the profit margins tight with expenditures at a minimum while still delivering good products and services.
C
ONGRATULATIONS D'Laney's! Proud to celebrate this honor with you!