Support Local on Small Business Saturday
---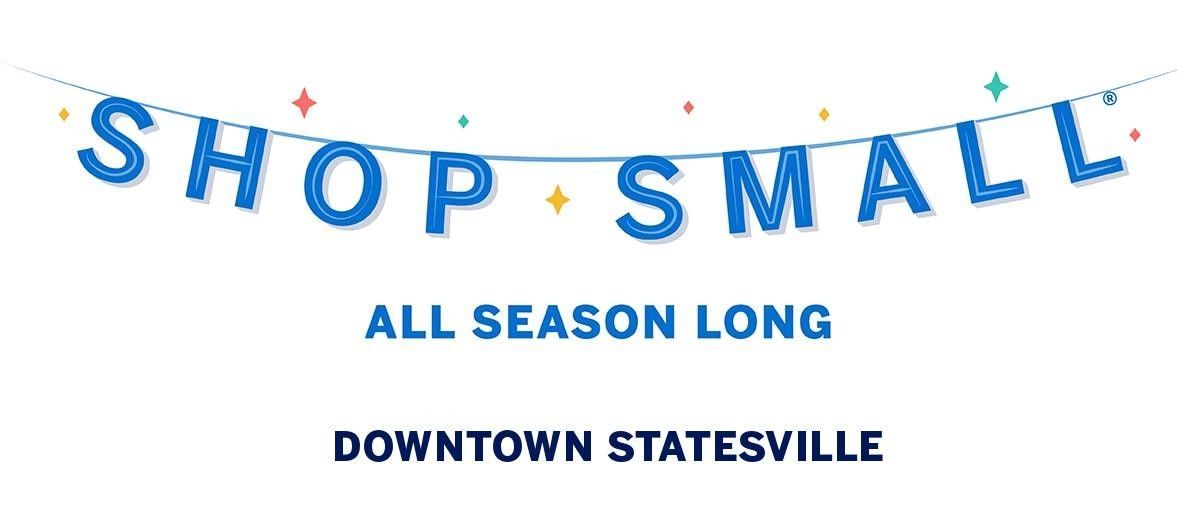 On November 27, we encourage residents and visitors to take part in the Small Business Saturday by shopping at our local businesses in Downtown Statesville. With more than 45 unique shops, boutiques and restaurants throughout the downtown district, you are sure to find something for everyone on your list this year. Make a purchase at any of the participating businesses and you can enter a drawing to win $100 in Downtown Statesville Dollars. 

Shopping small helps you support your friends, neighbors, other local businesses and the local economy. So spread the cheer and give the gift that keeps on giving by eating, shopping and living local in Downtown Statesville this holiday season.

Disclaimer: Most participating stores will ONLY be open normal Saturday hours. Check with individual stores for specific hours.
220 Cafe - Open 12pm - 9pm
33 1/3 Records - Open 10am - 10pm - Featuring Local Artist Works for Sale
AJ's Heavenly Discounts - Open 10am - 5pm
Ali's Bistro - Open 10am - 10pm
AP Vintage Motors - Open 10am - 3pm
Bleached A Salon - Open During Stylist Hours - 25% OFF Products - Includes Apparel
Blue Phoenix Vinyl Boutique  - Open 11am - 3pm 

Bristol Cafe -Open 9am - 3pm for Brunch 2pm - 5pm Hosting First Annual Thanksgiving Oyster Roast in Whiskey Shoot Alley: Local, select oysters and steamed shrimp from Pamlico Sound! There will also be Chicken Bog, Roasted Pumpkin Chili and Jalapeño Cornbread while it all lasts! Bring your oyster knives and gloves or use ours! We will be showing college football on 3 different big screens both inside and outside in the alley. Come and cheer on you favorite team!
Broad Street Burger Co. - Open 11am - 11pm
Carolina Mountain Sports - Open 9am - 4pm  Sales on Clothing will range from10%--40% off. Free fly casting lesson with each Fly Fishing outfit purchase.  North Face and Patagonia daypacks/bookbags  20% off.  Special Bargain Table.  Masks required in the store. 
Char Bridals - Open 10am - 6pm by Appointment
City Pawn & Gun - Open 10am - 4pm
Creations by TYS - Open 10am - 5pm $5 off purchase of $15; $10 off purchase of $50; $15 off purchase of $65; $20 off purchase of $100
Crossroads Cycling Co. - Open 10am - 5pm
D'Laneys Sports Bar & Grill - Open 11am - 2am
Earth's Natural Healing - Open 11am - 6pm Spend $50 and get an Aromatherapy Bracelet as a free gift!
Farm and Garden Services - Open 8am - 5pm
First Flight Bicycles - Open 10am - 5pm
Fourth Creek Brewing Co. - Open 12am - 12pm   Caramel Apple Crumble cider release, on tap & in 4packs! Small batch/Limited supply; Promotions on Gift Cards, Togo 4Packs and Crowlers: Hillbilly Philly Food Truck 4-9, and Karaoke 7-10:30!
Fresh Kicks LLC - Open 10am - 7pm
Frontline Bargains - Open 10am - 6pm
GG's Arts Frames Gifts - Open 10am - 5pm Door Prizes, Light Refreshments
Groucho's Deli - Open 11am - 8pm
Iredell Museum - Open 11am - 5pm
Indigo Boutique - Open 10am - 5pm
Johnson Greenhouses - Open 8am - 3pm Great Specials, Light Snacks, Surprise Libations
Lake Mountain Coffee - Open 8am - 8pm
Lee Dellinger Fine Art - Open 10am - 5pm
Marco's Pizza - Open 11am - 12pm
Marty's Bar & Grill - Open 11am - 2am
Mclelland Shoes - Open 9:30am - 5:30pm - Buy one Pair SAS Shoes and Get 2nd Pair 1/2 Off
Merle Norman Cosmetics - 10am - 5pm
Molly Malone's Boutique - Open 10am - 7pm
Motorsports Gallery - Open 10am - 3pm
New & Not Treasures - Open 10am - 9pm Santa available for pictures 12pm-4pm. Sock Donations will be accepted. Anyone donating socks receives a 10% discount off purchase!
New York Styles - 11am - 6pm Unlocked iPhones All Models and Sndroids with 90 Day Warranty! Now with Zero Down Get It Financed! Men's Suits $69.99 & Up; Apple Airpods $100 & Up
Nu-Way Shoe Shop - Open 10am - 1pm
Pasta Amore - Open 11am - 9:00pm Specials daily / Full Bar / Custom Pizza / Homemade Dessert / Draft Beer from Winston Salem 
Red Buffalo Brewing Co. - Open 12pm - 11pm
Randy's BBQ - Open 11am - 8pm
Roots Outdoors - Open 10am - 5pm 15% Off Main Floor 60% Off Upstairs Free Hot Chocolate, Drip Coffee, Donuts and Apple Cider While Supplies Last!
Smokin' Southern Cantina - Open 11am - 11pm
Sub Express - Open 10am - 4pm
Statesville Jewelry & Loan - Open 10am - 5pm
Tacontento Mexican Restaurant - Open 11am - 9pm Featuring Beef & Chicken Nachos, Chicken Fajitas and Combos; $4 House Margarita All Day
Twisted Oak American Bar & Grill - Open 11am - 11pm
Urban Boujee Fashion Kollab Co. - Open 3pm - 5pm Featuring "drink2shrink" weight loss formula and clothes, handbags and accessories for the family!
Wine Maestro - Open 10am - 9pm $5 Mimosas all day!