Shop, Eat & Win November 27 & 28 in Downtown Statesville
in
Event Posts
,
Downtown Businesses
,
Stateville News
---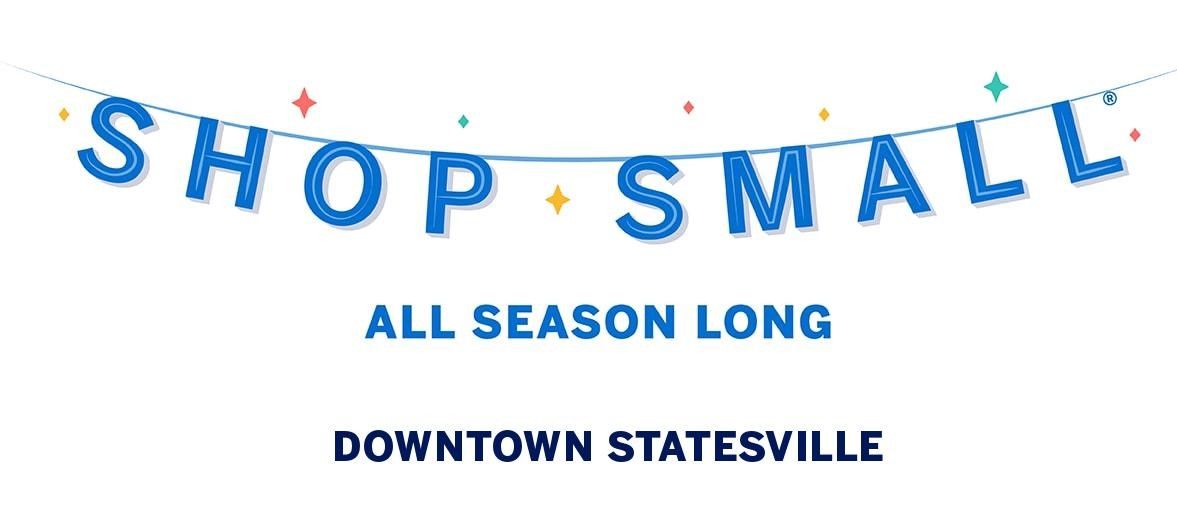 On Black Friday and Small Business Saturday November 27 & 28, we encourage residents and visitors to come and support our locally-owned businesses in Downtown Statesville. With more than 35 unique shops, boutiques and restaurants throughout the downtown district, you are sure to find something for everyone on your list this year. Make a purchase at any of the participating businesses on Friday or Saturday and you can enter a drawing to win $100 in Downtown Dollars. Each business has entry slips or the QR code to register online.

Remember, shopping small helps you support your friends, neighbors, other local businesses and the local economy. So spread the cheer and give the gift that keeps on giving by eating, shopping and living local in Downtown Statesville this holiday season.

We ask that you follow the NC COVID-19 safety protocol this holiday season, including wearing a mask, social distancing, using good hand, cough & sneeze hygiene, and staying home if you feel unwell.

Participating Businesses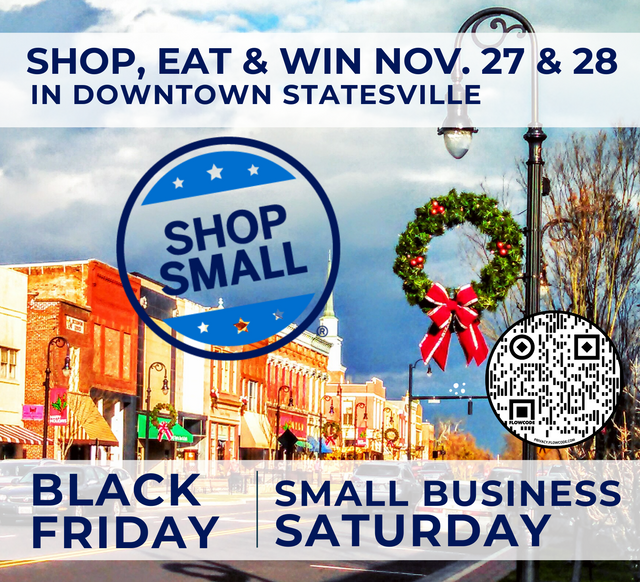 Shopping/Retail 
AJ's Heavenly Discounts - Fri 10 am – 6pm, Sat 10 am - 4 pm 
Beth & Company Salon & Day Spa - online sales 
Blue Phoenix Vinyl Boutique - Fri 11 am – 4 pm, Sat 10 am - 2 pm 
Canna City Hemp - Sat 10 am - 5 pm
Carolina Mountain Sports – Fri 11 am – 6 pm, Sat 9 am - 1 pm
Creations by TYS - Fri 11 am - 7 pm, Sat 9 am - 5 pm
Crossroads Cycling Co – Fri 10 am – 6 pm, Sat 10 am - 5 pm 
Earth's Natural Healing - Fri & Sat 12 pm – 7 pm 
First Flight Bicycles - Sat 10 am - 5 pm 
GG's Art Frames Gifts – Fri 10 am – 6 pm, Sat 10 am - 4 pm 
Indigo Boutique – Fri 10 am – 7 pm, Sat 10 am - 6 pm
Johnson Greenhouses – Fri 8 am – 5 pm, Sat 8 am - 3 pm 
Lake Mountain Coffee – 7 am – 8 pm, Sat 8 am - 8 pm 
McLelland Family Shoes - Fri 9:30 am – 5:30 pm, Sat 9:30 am - 2:30 pm 
Merle Norman – Fri 10 am – 7 pm, Sat 10 am - 5 pm 
Molly Malone's Boutique - Fri 9 am - 7 pm, Sat normal hours
Native Ceuticals - Fri 10 am – 7 pm, Sat 10 am - 7 pm 
R. Gregory Jewelers – Fri 10 am – 5 pm, Sat 10 am - 3 pm 
Roots Outdoor – Fri 9 am – 6 pm, Sat 9 am - 5 pm (Free Drip coffee on Small Business Saturday)
Statesville Jewelry & Loan - Normal hours
Tuff Tafari – Fri 11 am – 10 pm, Sat 11 am - 6 pm 
Wine Maestro – Fri 10 am – 11 pm, Sat 10 am - 9 pm
Wooten's Jewelers - Normal hours 

Fitness/Classes 
Deep Roots Yoga  - check online class schedule

Food, Drinks & Dining
Agave Juice Bar - Fri 8 am – 6 pm, Sat 8 am - 5 pm
Bristol Café - Fri & Sat 9:30 am - 2 pm
Broad St. Burger Co. – Fri & Sat 11 am - 11 pm
220 Café - Fri 11 am – 2:30 pm and 5:30 – 10:30 pm, Sat 12 pm - 9 pm
D'laney's Bar & Grill Fri & Sat 11 am - 11 pm 
Fourth Creek Brewing Co. – Fri 4 – 11 pm, Sat 12 - 11 pm
Groucho's – Sat 11 am - 8 pm
Marty's Bar & Grill 
Marco's Pizza – Fri & Sat 11 am - 12 am
Mezzaluna II - Fri & Sat  5 - 9 pm
Pasta Amore - Fri & Sat 11 am – 9 pm
Red Buffalo Brewing Company – Fri & Sat 12 - 11 pm (Enjoy 10% off your entire bill for Black Friday and Small Business Saturday ) 
Twisted Oak American Bar & Grill – Fri & Sat 11 am - 11 pm
Unwined Bar & Eatery – Fri & Sat 5 - 11 pm